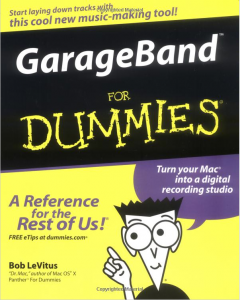 I tech edited GarageBand for Dummies for Bob "Dr. Mac" LeVitus, and I also contributed a few of the chapters. What I love about it are all the great recording tips and methods Bob offers, stuff that's still useful, even though this book is for the original version of GarageBand for Dummies.
Book Description:
Get ready to rock with Apple's digital music recording studio
Find out how to record, edit, mix, and master like a pro!
Are you the next big thing in music – but the world just doesn't know it yet? Here's the guide that will help you create great-sounding recordings with GarageBand. Packed with useful information on setting up a digital studio, laying down tracks, working with loops, playing with MIDI and software instruments, and mixing tracks, the only thing this book doesn't provide you with is . . . a recording contract!
The Dummies Way
Explanations in plain English
"Get in, get out" information
Icons and other navigational aids
Tear-out cheat sheet
Top ten lists
A dash of humor and fun
Discover how to:
Decide what gear you'll need
Optimize your room for recording
Mix vocals, instruments, and loops into a song
Improve recordings with editing and effects
Create CDs, movie scores, and more using other iLife applications