Dragonfly is a new band  years in the making, that recently released its first album, Amplification. Industrial-influenced metal with Turkish, Moroccan, and Indian themes, this 14-song album gets in your head and stays. Powerful writing, amazing musicians, heavy riffs, insightful lyrics, and musical themes that take you to several corners of the world combine to make great music.
This band is comprised of serious professional studio and live musicians who formed Dragonfly as an "Internet experiment" under Corey Tamas, singer, guitarist, and songwriter for the band.
Aaron Ferrera (drums) is a composer in addition to his work as a drummer, while Olga Zoubkova (backing vocals) has a successful solo career in Europe. Andrew Tokuda (bass) is better known as Digital Droo, and Anward Khurshid played Sitar on the Life of Pi soundtrack. MJ Cyr (backing vocals) is touring North American in support of her own solo album, Canopy.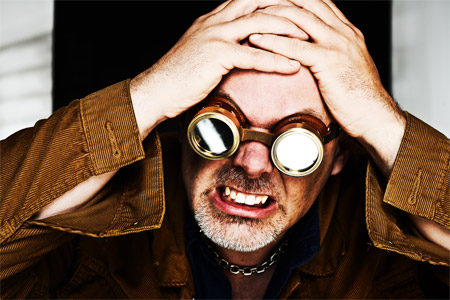 Dragonfly bills itself as metal, but I think it would be more fair to call the band hard rock, if that even means anything these days. There is plenty of distortion and the metal influence is clear, but the wonderful Middle Eastern, North African, and Subcontinent influences are just as, if not more, prevalent the the metal influences.
There are also a lot of melodic guitar  parts, and when you throw some sitar in…well, I don't hear "metal," I hear interesting music. In fact, this is where I should add that Dragonfly's site mentions "interesting metal."
"Break It In Two" is the first song on the album, and I very much enjoy the way it slowly unfolds its way into the music. Perhaps not coincidentally, it also starts off with backwards guitar. I hadn't realized the connection until I started writing this review, but this is an technique that Corey uses to great effect. Despite getting mentioned twice by me, it's sparing in this album, so don't get scared.
The percussion in this song is also wonderful, at least in the beginning where a tabla drum part adds to the Indian feel. This is where I have to mention my one beef with this album. The drummer, Aaron Ferrera, is a great drummer and percussionist, but I hate the sound of his drums on two of the songs.
The snare on "Break It In Two" puts me on massive tilt. It has a tinny pop to it that takes me back to the 90s, and not in a good way. I'm persnickety about such things, and in this case the snare and toms stress me out.
The same goes for the toms in "All The Anger In The World," another song I otherwise very much enjoy. The toms stand out and they are disruptive. It's like they're screaming, "Hey, listen to me, I'm playing the drums. You can tell, because I'm hitting these toms."
Fortunately, those two examples are the exception, rather than the rule, and I still like both songs. For the rest of the album, Aaron lays down beats that work and support the music well.
"Push" is my favorite song on the album. It starts off with some backwards guitar by Corey Tamas that evokes that Turkish air mentioned above. When Andrew Tokuda's bass pounds in a minute into the song, you realize this is going to be a song with some drive. Interestingly, it achieves this without a heavy drum line. This song is also a showcase for Corey's vocals and lets him stretch from quiet to powerful.
"The In-Between" is one of the more "metal-ish" tunes on the album, musically reminding me of Alice In Chains. "Signals" has some great Indian guitar lines that flit along in the background, playing hide and seek with the other instruments. I totally love that. It's so well-produced and engineered, and it works. It lends an ethereal air to the song that I really enjoy.
"Infidel" is a great marriage of metal and Turkish influences. Sitars mix with guitars, and a heavy drum line (I like the drums in this song) is paired with a driving bass line from Andrew. This combination of sounds and influences works really well.
I mentioned industrial at the top of this review, and that element is strongest in a song called "Very Bad," which rounds out my top three favorites on the album (with "Push" and "Break It In Two"). It starts off with a heavily distorted and effected drum beat that is very Reznor-esque. That line drives throughout the entire song, forming a backbone for Corey to scream over and rip his chainsaw guitar through. Good stuff.
Two women contributed backing vocals to the project, Olga Zoubkova and MJ Cyr. Both women have wonderful voices. MJ's best track is "I Guess This Means We're Through" (I love the outro to that song). Olga's voice blends very well with Corey's lead vocal on "The In-Between" and "My Father's Face."
The latter is a deeply personal song that sometimes leaves me feeling like I am an intruder in Corey's life. "Graciana" also feels like it's personal, but in this case it's the music that makes me feel that way. I don't know how else to put it, either. The instrumentation and music just feels personal. Listen and let me know what you think. One of the quieter tunes on the album, it features a haunting chorus with great harmonies from Olga.
Overall, this is a great independent album by fantastic musicians. It was engineered by Jeff Scott of Nu Vintage Studios and produced by Corey Tamas, and both of them did an amazing job. The sound on this album is superb.
One very interesting aspect of this band is that they rarely get to play together in a live setting. None of them are local to singer, guitarist, and songwriter Corey Tamas, who lives in Ottawa. Drummer Aaron Ferrera, singer MJ Cyr, and Sitarist Anward Khurshid live in Toronto, where many of the tracks were recorded in Jeff Scott's studio. Olga Zoubkova lives in works in Germany, and bassist Andrew Tokuda is in California.
But they sometimes play together in Second Life, that alternate-virtual world where bands and live performances have become a major part of virtual living. You can read an explanation by Corey Tamas at TechHive if you're curious about live music in Second Life. It's definitely George Jetson stuff, and it's super cool.
What's even more remarkable is that Dragonfly raised US$9,000 through indiegogo (phase 1, phase 2) to record the album. That's a remarkable feat for a first album. Just remarkable. And it speaks to the following that Corey has built over the years from prior bands and intermittent solo work.
It's also a testament to the changing landscape of the music industry, where bands like Dragonfly can reach out directly to their fans for the financing to record an album.
Amplification is CN$12 (or more) on Bandcamp, which I love because you can get it in Apple Lossless, as well as FLAC. It's on iTunes for $9.99. You can download six remixes for free on Andrew's Digital Droo site.