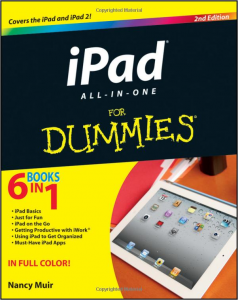 I'm named as a contributor on iPad All-In-One for Dummies, having written the book-within-a-book on apps for Nancy Muir.
The ins and outs of all things iPad and iPad 2—in full color!
Packed with the power of a MacBook, iPod touch, eReader, digital camera, portable game console and so much more, the iPad is an awesome device. And, the business world has certainly taken notice. The iPad is moving into the enterprise where power users and professionals alike are using the device to increase their productivity and work smarter at the office and on the go.
Long-time For Dummies author Nancy Muir walks you through the latest functions, features, and capabilities of the iPad and iPad 2 in six easy-to-understand minibooks covering setting up and synching your iPad; using the iWork applications; printing from your iPad; managing your contacts and calendar; accessing your e-mail and the web; making FaceTime video calls; using your iPad as a presentation tool; and finding the best apps for travel, news, weather, finances, and business productivity.
Six full-color minibooks include: iPad Basics, Just for Fun, iPad on the Go, Getting Productive with iWork, Using iPad to Get Organized, and Must-Have iPad Apps
Covers the newest iPad 2 features including FaceTime, Photo Booth, Smart Covers, HD video and cameras, video mirroring, and HDMI output
Shows you how to use iWork and other productivity apps to dress up your documents, create stellar spreadsheets, add pizzazz to your presentations, and maintain your schedule on the run
Walks you through connecting with WiFi and 3G; using Maps for directions and places to stay when you're away from the office; keeping in touch with e-mail and social networking; and using your iPad as a remote desktop while you're on the road
Includes information on having a little fun, too, with tips on loading your iPad or iPad 2 with music, movies, photos, e-books, games, apps, and more