Macworld/iWorld 2013 took place last week. In case you're unfamiliar, this is an annual trade show and conference for users of Apple's Mac and iOS products. It's a ton of fun, and one of the highlight of the week is the party thrown by The Mac Observer and Back Beat Media called Cirque du Mac.
This year marked the 10th Cirque du Mac event, earning it the moniker Cirque du Mac X. See what we did there?
Anyway, I really look forward to it. Not only is it the biggest party of the week, it's not a schmooze event like most trade show parties. People aren't there to network, they're there to have a great time. In recent years, we've had a trapeze artist doing an aerial silk act. For many years, we've had a face painter and henna tattoo artist who dresses up in the most amazingly awesome costumes.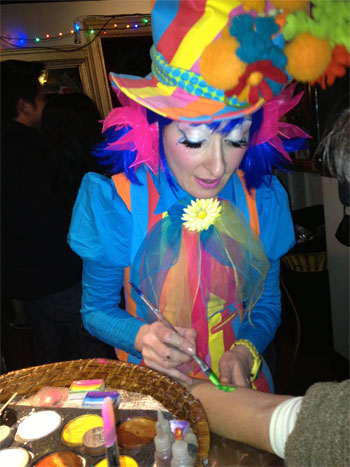 How Cool Is That?
Photo courtesy of Amanda Pearson
Fun fact: The first two or three years we had the henna tattoo artist, we had a sort of game the next day on the show floor. We'd look for the people who thought that they could just wash the henna off when they got back to their hotel. They were the ones working the booth with henna tattoos on their face.
Folks have learned since then. The henna goes on arms and hands, while lots of faces get painted in paint that washes off. It's really cool. Here's another photo of her at work.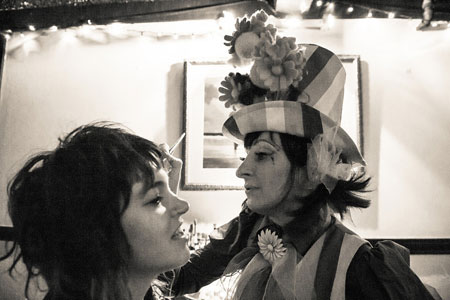 Photo Courtesy of Sphynge Photography
We had a stilt-walker again this year, and this wonderful woman who tools around on roller-skates with a hoola hoop. There was a photographer taking posed pics, and we had chair massages, too!
The Stilt Walker with Her Hoola Hoop
Photo courtesy of Paul "The Chocolatier" Shadwell
And did I mention the open bar? It's possible that's a big reason we'll get 500-700 people through the door…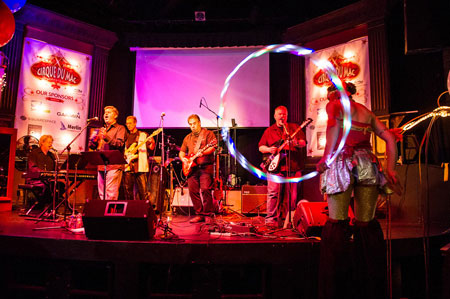 The Stilt Walker Is Awesomely Tall
Photo Courtesy of Sphynge Photography
The thing I personally enjoy most, however, is the Macworld All Star Band (also called the Macworld All Stars). This is a band that gets together just for Macworld. We joke that we practice once a year, whether or not we need it, and then we play the party.
For those keeping score at home, the band is comprised of Chris Breen, Chuck La Tournous, Paul Kent, Dave Hamilton, Duane Straub, Bob LeVitus, and yours truly. Most of those other guys are all but pro musicians, so we're able to get away with it. Plus, we've played 15 or so parties (counting the pre-Cirque events) over the years, so with 30 or so times to play together, we're getting the hang of it.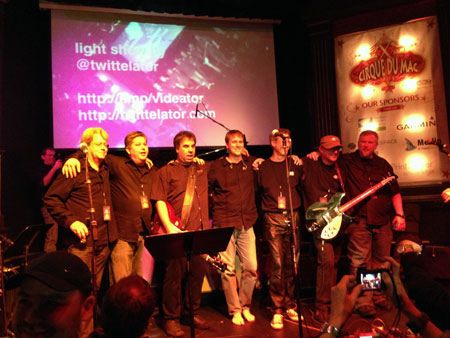 The Macworld All-Stars
Photo courtesy of @KatieFloyd
The party is amazing fun, and playing with the band is a treat and an honor. But after everyone else has gone home, the band still has to pack up its gear. At the end of a long day in the middle of a busy tradeshow week, this can leave a fellow tuckered out.
Which is what this post is really supposed to be about, because after lugging a very heavy amp, a heavy pedal board, some guitar stands, and a couple of guitars down two flights of stairs, Dave and I got back to our hotel to find the street in front of it blocked off for a serious construction project of some sort. There was no place to unload our stuff.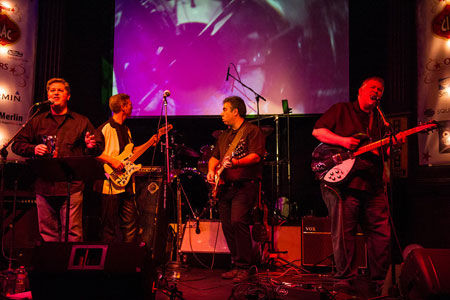 Chuck, Duane, Paul, and Me—Dave's Behind Paul Singing His Butt Off
Photo Courtesy of Sphynge Photography
This hotel didn't offer parking, either, and that meant I had to park in a public lot. The idea of dragging all this gear through the streets of San Francisco—and realize that Dave had a gig bag of his own with him—was just too much.
I decided to leave the amp and pedal board in the car. It was a risk, but it was only one day, and you couldn't really see them in the vehicle. It's only one day, right? What could happen?
The reality is that this question weighed on me throughout that one day. I had to check out of the hotel in the morning and finish the trade show, so getting the amp still didn't make sense. At the same time, I didn't want to check on it or the board. Not only would doing so potentially expose them unnecessarily, it wouldn't really help. Either the amp was there or it wasn't.
Instead, I started thinking of it as a surprise awaiting me. When I got there, I'd either find that everything was OK, or I'd find my car broken into and my amp gone.
When I mentioned this to Dave that day, he said, "Yeah, it's Schrödinger's Amp. Until you observer it, you're amp is both in your car and gone."
Ha! Nerd humor is awesome, and I thought that was pretty damned funny. That Dave fellow is one smart cookie.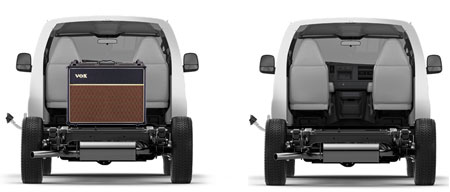 What Would I Find?
Still, the fate of my gear sat in the back of my mind. As the time to depart finally arrived, I approached the garage with some trepidation. Would the amp be safe and sound? Had it been stolen?
I walked through the garage, my steps echoing like some some cheesy black and white detective film. Finally, I spot my car. Oh, sure, the windows look intact, but that didn't necessarily mean anything. As I closed the final distance, I clicked the remote and my car winked in response. Nervously, I opened the rear hatch and surveyed the interior.
Then I closed the door and pulled out my iPhone to send Dave a text message: "The amp lives."
I'd be remiss if I didn't mention that the Cirque du Mac sponsors this year included ProjectWizards, Movie Tracker, Lantronix, Garmin, Squarespace, and Smile. In addition, IDG and OWC helped us out this year, as well.