So there's this thing called a blog hop, sort of an informal ring of unrelated sites posting on a related theme. In this case, the blog hop is for writers and the theme is our work-in-progress, meaning the book we're writing. I found out about it from Diane Carlisle.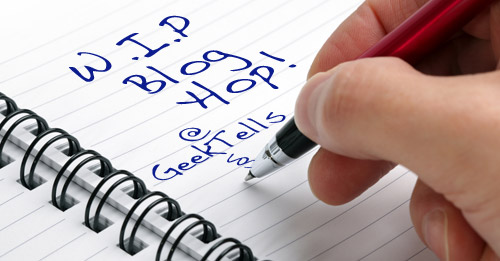 As I understand it, the rules are simple:
• Answer the ten questions (see below) about your current W.I.P. (Work In Progress) on your blog.
• Tag five other writers/bloggers and add their links so we can hop over and meet them.
Accordingly, here I go:
What is the working title of your book?
The Mason Truman Project
Where did the idea come from for the book?
Many years ago, I set out to write my first short story. I finished the story, but it stuck with me and I started thinking about the back story, the broader world, and just what the heck was on that data cube?!
What genre does your book fall under?
Science Fiction (with a gentle touch of what I think of a functional dystopia)
Which actors would you choose to play your characters in a movie rendition?
Mason Truman – Clive Owen
Peanut – Adam Ferrara or Adam Busch
Commander Andrew Bowers – Ben Browder
Voice of Sam – Tricia Helfer
Miranda – Shailene Woodley or Dakota Fanning
What is the one-sentence synopsis of your book?
Mason Truman is a PI whose easy missing persons case puts him in the path of dangerous AIs, a gluttonous corporate monstrosity, and Miranda, a new kind of AI who believes she can see the future; worse yet, she thinks he's the lynchpin to saving humanity.
Will your book be self-published or represented by an agency?
I am seeking agency representation even now.
How long did it take you to write the first draft of your manuscript?
Nine months.
What other books would you compare this story to within your genre?
Like all writers, I'm trying to clamber atop the shoulders of giants. I've been trying to answer this question for more than four months (when I started querying), and the two books that spring to mind most frquently are Larrry Niven's Ringworld and Dan Simmons's Hyperion books (if they starred James Rockford of The Rockford Files).
Who or What inspired you to write this book?
Poker's Black Friday coupled with simultaneous burnout for World of Warcraft got me in the right frame of mind to finally write this book. On a broader level, I've wanted to write fiction for much of my life because I've been so inspired by the works of people like George R.R. Martin, Dan Simmons, Frank Herbert, Larry Niven, J.K. Rowling, Katherine Kurtz, and a vast host of other writers. If I can write something on the order of two percent as good as the works that have inspired me, I'll be a happy camper.
What else about your book might pique the reader's interest?
The thing I enjoy most about this story is exploring the role of artificial intelligence in our not-too-distant future. Will they be partners? Slaves? Masters? Would they live lives that are completely independent of what we consider reality? Will they have their own agenda? Their own personalities? How might political power evolve around the emergence of such beings? What would their goals be? Their hobbies? What happens if they aren't all on the same page? This forms the backdrop to my tale, and it's the practical effects of these ideas that confront my main character (who is human).
Now It's Your Turn!
Have a W.I.P? Answer the questions above, post it on the Interwebs, and send me a link. I'll add you to the list below.
Other Members of the W.I.P. Blog Hop:
Diane Carlisle – Precinct 9
Lanise Brown – The Timekeeper's Journal
Shane Jeffery – The Park
Kay Proctor – Jasper City
Nadine Ducca – Serving Time
Gregg E. Breckman – Imperfect Daddy